CHINESE NEW YEAR FACTORY
2023 DATES: HOW TO PLAN FOR SHUTDOWN?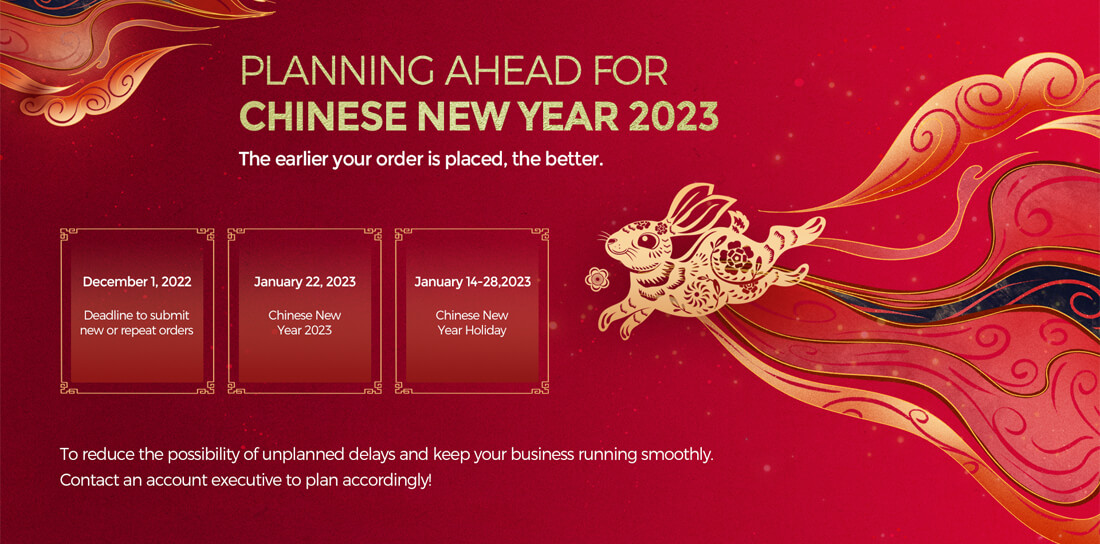 Chinese New Year is one of the biggest and most celebrated times of the year. CNY officially begins on January 22, 2023, so suppliers will begin slowing down or stopping production a week or so before. We recommend you ask your suppliers when their offices and factories will be closed throughout the holiday. Below is a rule of thumb schedule for the Chinese New Year holiday.
● December 1: Deadline to submit new or repeat orders
● Early-January: Employees begin leaving the factories.
● January 14: All employees have left the factory.
● January 22: Chinese New Year.
● January 28: Employees begin arriving back at the factories.
● January 31: Most employees have returned.
● February 5: Operations are almost back to normal.
How should I prepare?
Since you know the Chinese New Year shutdown is coming, you can act now to reduce the possibility of unplanned delays and keep your business running smoothly.
Here are a few suggestions that will keep you ahead:
Plan early
Take a look at your past sales, and use them to determine your inventory needs ahead of time.  Get in the habit of managing your inventory well, and you'll already know what you need when the time comes to order before the Chinese New Year shutdown.
Forget to plan, and you'll end up scrambling and probably overlook something crucial.
Increase inventory
Just in case the dreaded delays do happen, make like a squirrel and build up a stash before the holiday hits. Be over-prepared with all of your most popular inventory, and stock up even on items that are less popular but have the potential to run out.
As it takes a few weeks for manufacturers to work out the kinks and get back up to speed after the Chinese New Year, waiting until after the holiday shutdown to order seasonal items may leave you in a pickle.It's best to make sure that you don't run out of the important stuff, and that the seasonal stuff arrives in time for its associated holiday.
Communicate with your supplier the cost of shipping 
With the lengthy factory closures and the rush to get products out beforehand, manufacturers will generally charge more if you want to ship an order close to CNY.
In addition to your factory taking time off, shipping companies take time off as well. As such, heavy volumes are going to the ports before the holiday with only a limited number of ships, which means shipping rates go up.
Other important Chinese Holidays